"Chromatic Vision Simulator" is an experience tool which simulates color vision of color vision deficiencies.
This software makes and shows you a simulated image from built-in camera or image file in real-time.
Features
Shows you how people with a specific type of color vision deficiency (dichromat) see the world.
Supports "Normal Color Vision," "Protanope," "Deuteranope" and "Tritanope" color deficient types.
Lineups both versions for iOS devices and android devices. The iOS version is compatible with Apple iPhone, iPad and iPod, and the Android version is worked on various Android devices. You can bring it always with you and check out colors at anywhere.
Recommended for people who treat colors carefully, such as artists, designers, etc.
Developed by Kazunori Asada (Ph.D. Medical Science and Media Design) based on the research in color science.
What's New
2021/01/27: iOS Version 2.41 is released.
Compatible with various high resolution models and supports the latest iOS.
2019/08/24: Android Version 3.1 was released.
Supports EXIF rotation tag when read image files.
2018/08/11: Announcement:
The "Chromatic Vision Simulator" has been made Open-Source and the "Chromatic Vision Simulator Android Version 3.0" has been released.
2017/12/08: iOS Version 2.31 was released.
Fixed a bug that crashes immediately after displaying splash when used with iOS 9 or lower.
2017/12/06: iOS Version 2.3 was released.
Supports iPhone X screen size.
2015/06/26: iOS Version 2.2 was released.
iOS8, iPhone 6 and iPhone 6 Plus are fully supported.
2013/09/25: iOS Version 2.11 was released.
Fixed issue with layout which is confused on iOS7.
2013/09/10: iOS Version 2.1 was released.
Simulating image files in the "Photo Album" and "Simulation Intensity" are supported.
2012/10/06: iOS Version 2.02 was released.
Corresponds to the longwise screen of iPhone 5 and fixed a bug of saving the screen in iOS6.
2012/09/07: Web Edition was released.
The web edition which works on a web browser without installing software was released. A web browser which supports WebGL is required. The web camera only works when WebRTC is supported.
As of today(2013/06/05), it works on Google Chrome, Firefox and Opera. Safari can be used with only file mode if WebGL is enabled from the "Develop" menu (it is not enabled as the default).
2012/06/05: Android Version 2.03 was released.
Fixed the bug of black screen on some Android 4.0 devices.
(If camera previews are displayed doubly, turn off the "Black screen hack" option in preferences. (panasonic P-07C etc.))
2011/12/16: Android version 2.02 was released.
2011/08/03: Android version 2.01 was released.
2011/07/25: Android version was released.
2011/07/19: iOS version 2.01 was released.
2011/07/02: iOS version 2.0 was released.
2010/08/31: iOS version 1.0 was released.
Screen Images
Protanope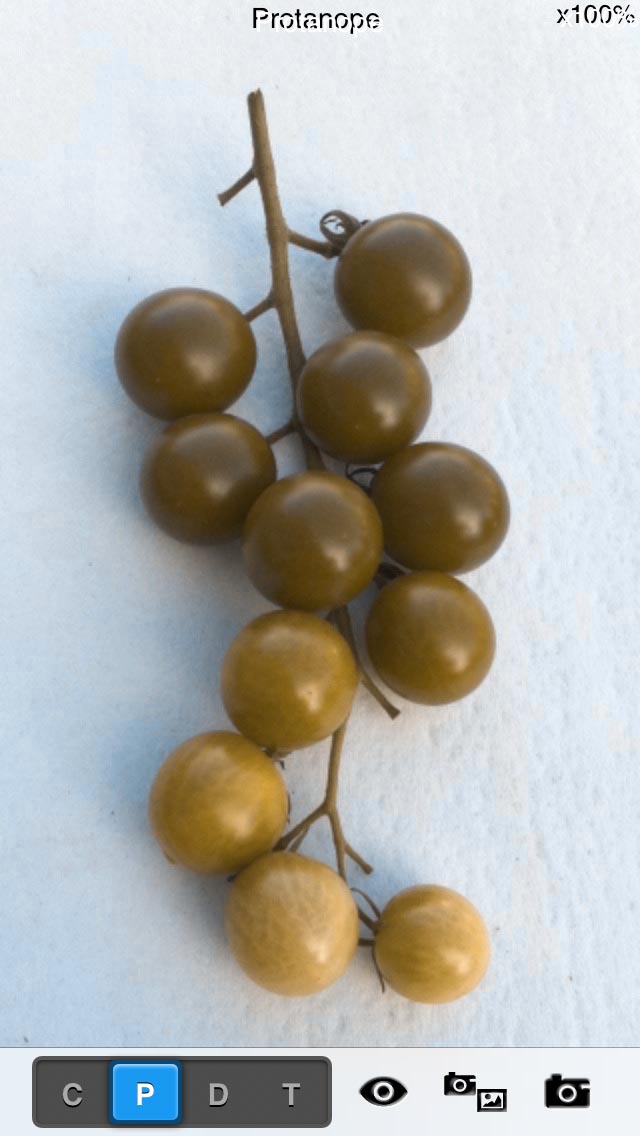 open image
Quad mode (C,P,D,T)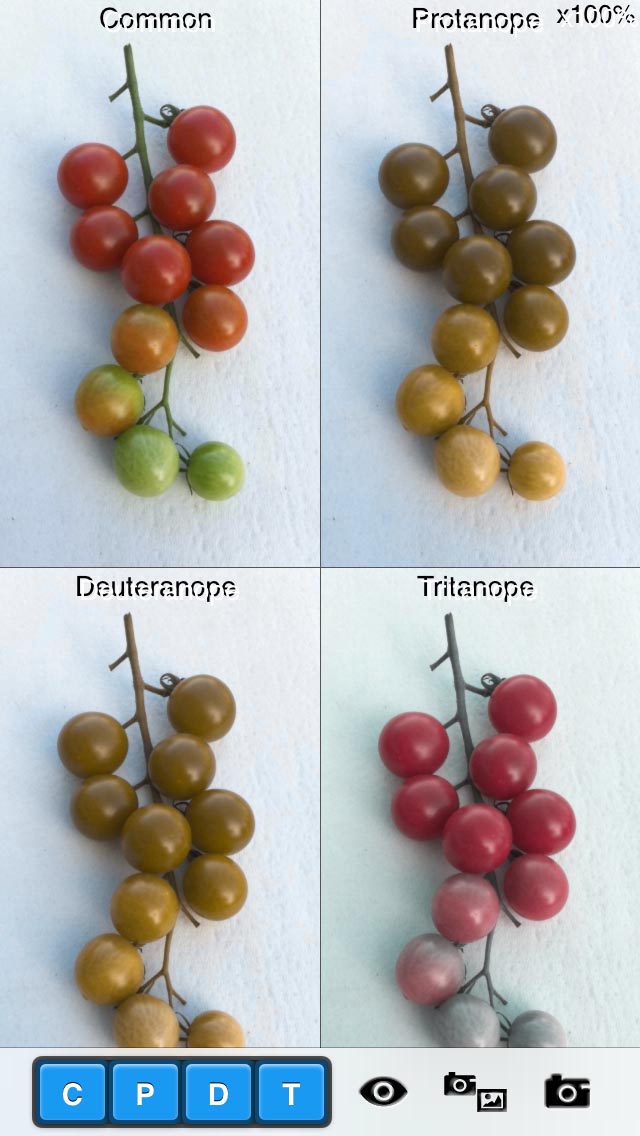 open image