About
"Chromatic Glass" supports three kinds of modes and helps users to increase their ability to perceive colors.
"Distinguish Color" Mode
This mode is for distinguishing between difficult to distinguish colors. The confusion color is recognized easily by dividing and changing colors into color zones which are determined according to the color vision type.


"Find Color" Mode
This mode is for finding colors which are similar to a specified color on the screen or by a color name.


"Simulation" mode
This mode makes a simulation image according to a color vision type for showing it to the person of type C (Common type). It may be helpful to understand the colors which are hard to distinguish for various color vision types. Since a simulation image is not necessarily exact, please use it as a rough indication.
Moreover, it raises understanding of the color by using the following functions together which can be used in any mode.
"Displays Color Value or Color Name Function"

The value of the color and the name of the color can be displayed in various kinds of formats.
Please choose the format from "RGB (original value)", "XYZ"(CIE 1931), xyY (CIE 1931), "CIELAB"(CIE 1976), "CIELUV"(CIE 1976), Munsell(approximated value), "JIS(Japan Industrial Standard) Generic Color Name (JIS Z8102), "JIS Common Color Name (closest)(JIS Z8102) and "Nothing."


"Displays the Chromaticity Diagram Function"

You can operate this application with confirmation which and how colors are changed by seeing the chromaticity diagram.
The "xy chromaticity diagram" and the "u'v' chromaticity diagram" are supported.
Product Requirements
iPhone, iPad and iPod Touch with iOS7.0 or later.
Sample Screen
"Distinguish Color" Mode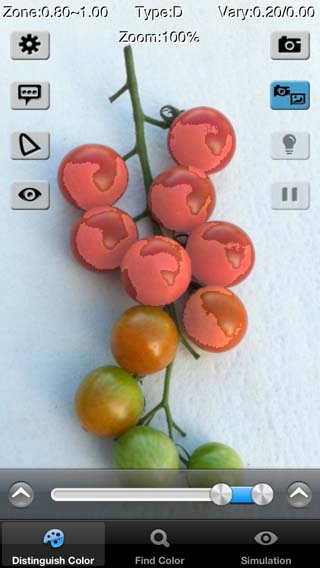 open image
"Find Color Mode"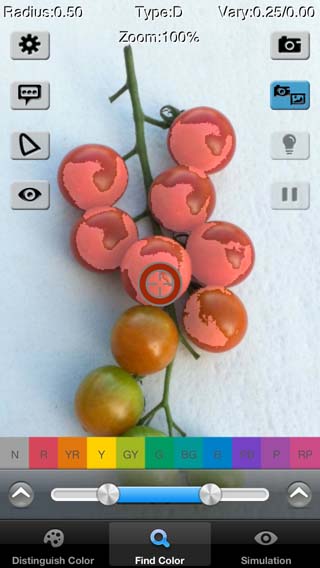 open image
"Simulation" Mode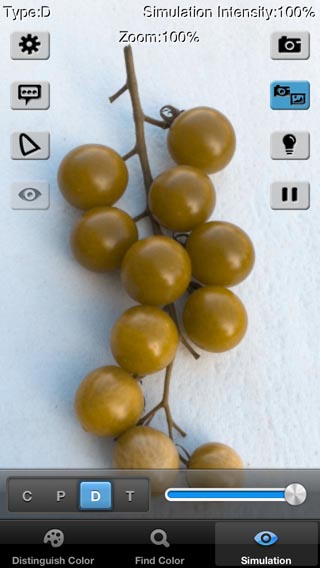 open image
Settings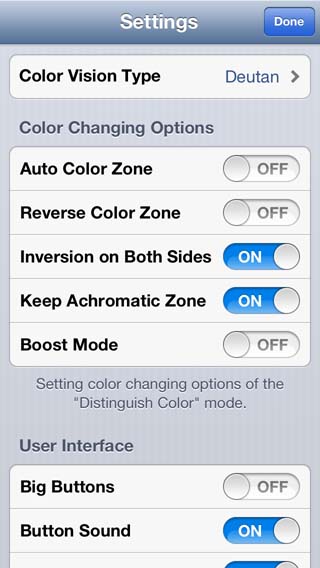 open image
Notes
This application software was developed by Kazunori Asada (Ph.D. of Medical Science and Ph.D. of Media design), and is released free.
Acknowledgment:
In developing the version 2.0, I would like to acknowledge the contributions of the following people: the people of the NPO Color Universal Design Organization, who helped me to input data of the JIS Common Color Names; Mr. Iridium, who helped me to design a part of the logo and the splash; Mr. Michael Mielke, who checked my English; and the people who tested the application. The calculation module of the Munsell value is based on Mr. Maker-One's paper after obtaining his permission. Thank you very much.
Please see the manual for additional acknowledgments.